French West Indies - St.Barths (February 2005)

Where is St.Barths (Top)



History of St.Barths (Top)
Saint-Barthélemy is a French island located in the Caribbean at 17°54'N 62°50'W . Administratively it is part of Guadeloupe, which is an overseas department of France. The island is also known as Saint Barts, Saint Barths, or Saint Barth. In 2003 the population voted in favour of seccesion of Guadeloupe in order to form a separate territorial collectivity. Saint-Barthélemy was first claimed by the French in 1648, and except for a century as a Swedish colony, between 1785 and 1878, it has remained in French hands. Located approximately 150 miles east of Puerto Rico, it lies near the islands of Saint Martin, Saba, and Anguilla. Most hotels in Saint Barts are small and exclusive, but private villas are also a available. There are no timeshares. Saint Barts has a small airport (IATA identifier SBH) that is served by small regional commercial aircraft and charters. Most visiting aircraft carry less than twenty passengers, such as the Twin Otter, a common sight around Saint Barths and throughout the northern West Indies. It is rumored that Jimmy Buffett wrote "Cheeseburger in Paradise" at now famous Le Select, a restaurant and bar located in Gustavia. Gustavia, which is the main town of the island, was named after King Gustav III of Sweden, and remains as a reflection of the Swedish period.
[via
Wikipedia
]
General atmosphere (Top)
Very safe, I felt as in some small towns in Switzerland. The children are always welcome, also in the restaurants. The service level and customer orientation (restaurants, hotels, shops, etc.) is quite high. There aren't a lot of people on the island and on the beaches, although we stayed in St.Barths during the high season. Local people are friendly and cool, also on the streets with their cars. The beaches are very clean. See the funny ashes they are using. Some tourists felt some kind of snobbish atmosphere. I don't agree at all: all the people are dressed *very* informal and casual, sometimes that was really too much, specially in some very good restaurants :-) I didn't see one tie during our whole stay. The local people and the tourists are really cool.
| | | | |
| --- | --- | --- | --- |
| | | | |
| | | | |
| 239Ko | 325Ko | | |
Getting to St.Barths (Top)
The principal gateway to St. Barths (SBH) is through Juliana Airport in nearby Dutch St.Maarten, where flights arrive daily from both the USA and Europe. International carriers arriving at Juliana include American Airlines, Continental Airlines and US Air from the USA, and Air France, Corsair and KLM from Europe. From St. Maarten, WINAIR, Air Caraïbes, and St-Barth Commuter, make the ten minute shuttle flights to St. Barths(SBH). Air France and Corsair also fly regularly from France to Guadeloupe. From Guadeloupe, Air Caraïbes offers a few direct flights to St. Barths (45 minutes) and others via St-Martin departing at times meant to accommodate the arrival of the bigger planes from France. Air Caraïbes also has sereral flights a week between San Juan and St. Barths via St. Martin. And new this season (03/04) Inter Island Express based in San Juan, offers two direct flight a week from San Juan to St. Barths.(SBH) Locally based charter flights are also available. The airstrip in St. Barths is small, and pilots are required to have special training to land. For many, the landing, especially on a windy day, is an adventure in itself.
[via
St-Barths.com
]

The Beaches (Top)
Surprisingly, we found at St.Barths some of the most amazing beaches we have the chance to visit, including the ones of
the Seychelles
. There are 14 beaches on the island, all very beautiful and different from each others. We particularly liked two of them : le Gouverneur and Saline.
| | | | |
| --- | --- | --- | --- |
| | | | |
| | | | |
| 169Ko | 139Ko | | |

Accomodations (Top)
Generally speaking, no accomodation is really cheap on this island... On the other side, a very high quality of service and beautiful buildings. So it remains somewhat coherent. About half the beds which are available at St.Barths are privately held (villas and apartments). There are a very few number of hotels on the island, all very well integrated in the landscape and...very small. The largest hotel has 76 rooms, the others have half of that. This destination is completely different as the other Caribbean places :-)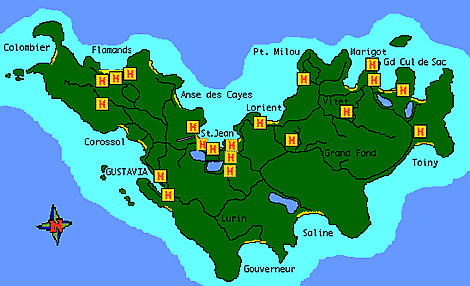 We stayed at La Banane, which is really a great. Very nice people here, who still know what is "service". We felt at home! On the other side, the hotel war renovated in 2000 and it is amazing. Just 9 bungalows, but ... hey, great ones. We were *very very* happy with our choice :-)
| | | | |
| --- | --- | --- | --- |
| | | | |
| 279Ko | 291Ko | 183Ko | 265Ko |
| | | | |
| | | | |
| 228Ko | 149Ko | | |

Shopping (Top)
A paradise for shopping, a nightmare for your cerdit card ;-)
St. Barths is a duty free port, and shoppers will be delighted with the range and number of shops: from a shaded table by the side of the road, to the elegant displays and marble floors reminiscent of Rue du Faubourg St. Honoré in Paris. The highest concentration of shops is in Gustavia, followed by St-Jean, with its several shopping centers. It is wise to allocated more than a single afternoon to see what's what and where's where.
[via
St-Barths.com
]
| | | | |
| --- | --- | --- | --- |
| | | | |
| 237Ko | 159Ko | 205Ko | 196Ko |

Restaurants (Top)
Wow, wow, wow. Very exciting and good French, Creole, Italian and Chinese cuisine to be tested in St.Barths. The concentration of good restaurants is terrible for your weight.
One of the best things about St. Barts is the quality and variety of the food. This is true not only in numerous local restaurants, but in many local homes and villas as well, due to the unusually wide range of foodstuffs available at local grocery stores, and due to the quality of local catering services. Shopping for food in St. Barts can be a delightful social pastime in itself.
[via St-Barths.com]

We tested the following restaurants, see our appreciation:
| | | |
| --- | --- | --- |
| K'fé Massaï | very good | Lorient |
| La route des Boucaniers | very good | Gustavia |
| The Hideaway | good | St Jean |
| Jojo Burger | medium | Lorient |
| L'Entracte | good | Gustavia |
| La Gloriette | disappointing | Grand Cul de Sac |
| Le Bouchon | good | Lorient |
| Pipiri Palace | very good | Gustavia |
| Wall House Restaurant | very good | Gustavia |

Advices - Lessons Learnt (Top)
Three things are cheap in St.Barths, and just these ones: alcohol, cigars / cigarettes and gas ;-)
You need a car. Don't ask if you can walk or take a bicycle...You need a car and a 4W car! The rest is bullshit.
French and English are spoken everywhere.
Euro and $ and accepted everywhere. No problem with cerdit cards.
Voltage is 220V, 60Hz. French plug converters are required.
Cell phone: nothing special if you have an international subscription.
DO NOT forget to bring something against mosquitos. There are really annoying...and quite strong in St.Barths (although all the hotels are treated two times a week against mosquitos).
Time zone: as US East Coast, 5 to 6 hours difference with France
Typical tropical region for the daylight: all the year between 06:30 and 18:30, so that the people are waking up early and going to bed quite early in the evening.
Weather: also typical tropical weather. Some clouds in the morning, a little very pleasant wind, somtimes some suddend tropical downpours (short and normally duting the night), 28-30°C during the day, 22-24°C during the night, 25-27°C in the sea :-)

Our ten best things about St.Barths (Top)
The views and colors around every turn
The beautiful stay at La Banane
The great shopping time
The great dinners (K'Fé Massai, Pipiri, Hideaway, Wall House)
The beaches, specially Le Gouverneur and Saline, specially in the morning
The feeling of being "out-of-the-world" for a while (no news, no crime)
Drinking Ti Punch and Planteurs every time that is possible :-)
The people of St.Barths
Leaving St.Maarten behind (if you like St.Maarten, you won't like St.Barths)
Smoking some great cigars 3 times a week after the dinner (eg.: Davidoff Grand Cru No.4)