Giant of Jazz Elvin Jones dies (Top)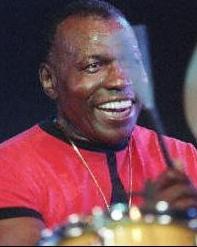 He set the highest standards of technique and uncovered possibilities in multi-layered rhythms which are still being explored.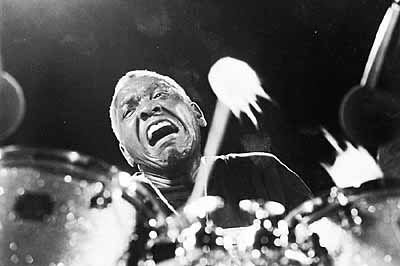 Elvin Jones, regarded by many (and by myself) as the most influential modern jazz drummer, has died in the US of heart failure. He was 76. Jones was a member of the John Coltrane Quintet and played, among others (500 recordings!), with:
Duke Ellington
Charles Mingus
Miles Davis
Charlie Parker
His health had deteriorated in recent months, but Jones only played his final show with his group last month, using an oxygen tank while on stage (!).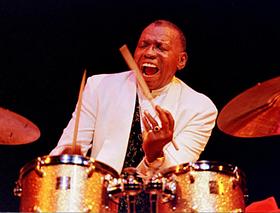 Like jazz drum greats Kenny Clarke and Max Roach before him, Mr. Jones de-emphasized the standard time-keeping role of jazz drumming. But he then went several steps beyond, constantly subdividing the beats he played and creating a free-flowing pulse that was a marvel of intricacy and invention. His stunning work earned him a broad array of admirers, including such top rock drummers as Mickey Hart of the Grateful Dead and former San Diegan Matt Cameron of Pearl Jam.
Hotel Costes Nr.6 (Top)
Interesting CD from a French Parisian DJ called Stéphane Pompougnac and his sixth "Hôtel Costes" compilation. What is this Hôtel? The Hotel Costes, in the heart of Paris near the ultra-chic Place Vendome, is the place to be seen for top models, rock stars and film stars from around the world. The Costes brothers have been careful to make the music in the hotel an integral part of its special charm. Stéphane Pompougnac plays a selection of lounge tracks.



Montreux Jazz Festival 2004 (Top)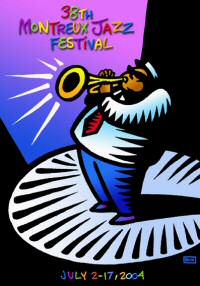 I saw on Thursday, 8th July 2004 the Pat Metheny Trio, with Pat Metheny, Christian McBride (bass player - Diana Krall, Sting, George Duke, Natalie Cole, etc.) and Antonio Sanchez (drummer - Michael Brecker, John Patitucci, Marcus Robert, etc.). These three guys were really incredibly good, specially Antonio Sanchez who did such an "impossible-to-forget" chorus in the middle of the set, wow!!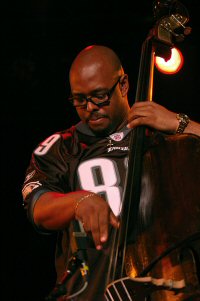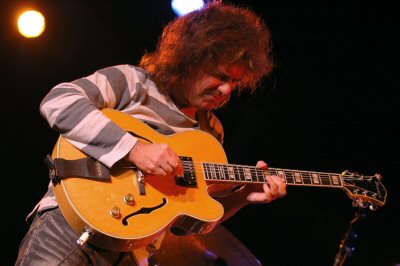 Sure that the very special landscape of Montreux and its lake plays also a role in this kind of special event.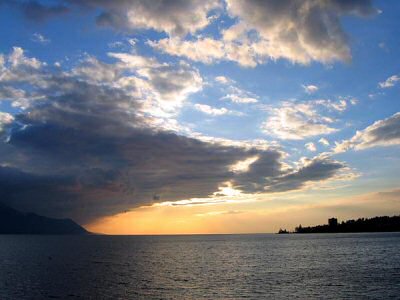 Placebo - Sleeping with ghosts / Limited Edition (Top)
It's about a limited edition of the last great Placebo's CD - Sleeping with ghosts.
In this limited edition, you will find a bonus CD with 10 amazing and unexpected covers. Some examples:
- Running Up That Hill (Kate Bush)
- Where Is My Mind (The Pixies)
- Johnny And Mary (Robert Palmer)
- I Feel You (Depeche Mode)
- and ... Daddy Cool (Boney M) :-)

Really great and interesting!!



DVD live: Placebo - Soulmates never die (Top)
I recently bought the last DVD live of Placebo called Soulmates never die – Live in Paris 2003.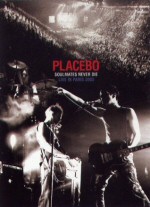 It's really a great and amazing DVD, incredible band, that's fucking rock & roll!!
Frank Black appears on the last track, a famous cover from the Pixies called Where is my mind.
DVD live: Red Hot Chili Peppers - Live at Slane Castle (Top)
Since some weeks, I'm listenning to and watching the following Red Hot Chili Peppers' DVD:





Red Hot Chili Peppers - Live at Slade Castle

It's really one of the best live I ever heard! Great sound, high video and effects quality. These guys are definitely crazy :-)
Specially the bass player with his skeleton costume. A must-have.
DVD Live: R.E.M. (Top)
I bought last week my first live DVD of R.E.M. - Perfect square. Again, a very good one ;-) These kind of live music DVDs are really a great media support for big music fans & consumers as I... The live was filmed during a concert in Germany (Wiesbaden) in July 2003. The DVD also includes a very interesting documentary about the 3-days concerts of R.E.M. at the Stirling Castle in Scotland performed in July 1999. Great local accent :-)
Great live performance and version of the following songs:
- Drive
- Orange crush
- Everybody hurts
- Country feedback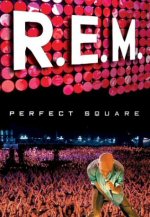 DVD Live: Sade (Top)
Since some days, I'm watching and listenning to a great DVD-live called Lovers live from Sade. This live performance was filmed in September 2001 in California. The DVD contains 22 songs (!), about 2 hours of very sweet , sexy and groovy music! And the band is really excellent!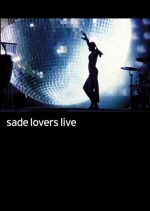 DVD Live: Sting (Top)
Do you know the
Sting
's DVD:
"...All this time"
? You should. And I cannot express my feelings better than
Soaring Heart
....
Sting is an artist in the truest sense
, May 13, 2002
This review has been locked up in my heart for a long time. It is one of those enormously emotional products I love that I feel inadequate to review; however, that is the best reason for reviewing it. I believe most people know that this concert was held in Sting's home in Italy, that he and his gifted band had been practicing for less than 2 weeks and that they had to decide whether to go on and do the show knowing of the horrific events of that day (September 11, 2001.) Besides the music, their discussion of this decision is one of the highlights of this DVD. "Fragile," dedicated to the victims is the opening song and it is played and sung PERFECTLY with tenderness, respect and musical brilliance. The entire DVD sound and picture quality is second to none I've ever seen, the songs are slightly different than we've heard them (more jazzy/bluesy) and it is a change that shows how much Sting has grown as an person, not just an artist. The band he has put together is entirely and impressively gifted, coming from around the world--Brazil, Argentina, Algeria, France, England, North America and more. Each one adds to the magical eclecticism of the music and atmosphere. They comprise an entertaining and interesting group of musicians to watch AND listen to.
I have always respected Sting but never so much than after seeing this. The DVD is absolutely flawless. I can't give a higher recommendation. This is my highest recommendation. On a 1-10 scale with 1 the worst and 10 the best. This tops even a ten. There are really no words to express all of my feelings. STING...ALL THIS TIME must be EXPERIENCED. Whether or not you are a fan of Sting is irrelevant, because AFTER you watch this you WILL BE.
It has one of the best menus I've ever seen with loads of options: to play the documentary, the concert or both at the same time with a feature to hit "S" (enter) after each practiced song (that was chosen to use in the concert--obviously in keeping respect for the ones that had lost their lives, many tunes were omitted in the concert that are on the warmup/practice/jam sessions. Which are, by the way, enjoyable to watch.)
What I want to emphasize the most is the way Sting starts off somber and respectful and ends up letting himself go inside the music whichs floods his soul with JOY, which, in turn, the rapport between him and his band sets up a chain reaction that fills everyone playing and listening with JOY. THAT, my friends, is what Music is all About. This is so inspiring to me and I believe it will be to you too.
Sting said it best, "You know, we were all put on this earth to be happy. We all deserve to be happy. They can't kill our joy. We can't let them do that."
KEEP SMILIN' AND SOAR!
SOARING HEART