Creative MuVo2 4GB
I bought on Mai 22, 2004 a Creative MuVo2 4GB, an MP3/WMA/WAV player for about 280 euros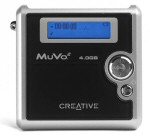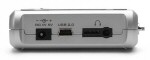 (real size: 6.7 cm x 6.7 cm x 2 cm)

It contains a Hitachi HD (3.78 GB free), which is very fast and quiet. The MuVo2 needs no special installation on XP, it is seen as an external HD, the copy works fine and fast thanks to the USB 2.0 connection. The Winamp playlists are recognized without any problems (.m3u, ID3 tags). Battery life should be ok, let's see next week with a real utilization.

Its small 132x32-pixel blue-backlit LCD offers ample information while a song is playing, such as the filename, the elapsed time, and the number of tracks in the current directory. It remains small, with just one line for displaying the information but it seems to be ok.

Last but not least: what about the sound quality? In this field, I'm a kind of - umh - annoying user... For me, the minimum acceptable bit-rate for MP3s is 256 kbit. I've tested the player with my AKG headphones, which are one of the reference for profesionals, largely used in studios. In a sense, they are my ears' reference :-) I must say that the MuVo2 is really great in this field, an astounding sound quality!

home | sitemap | weblog | contact | disclaimer


This work is licensed under a Creative Commons License.