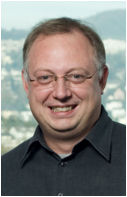 Didier has more than 20 years' experience with strategic management of small agile units in multicultural and international environments, confronted with big customers. Didier has also about 15 years' experience in complex multinational project and program management, pre-sales and account management, outsourcing and SLA, financial accounting, and 8 years in Agile methodologies like Scrum and Software Product Management. The main focus of his activities lies in leveraging the innovation potential brought by new technologies which help to develop profitable growth.
Didier is today Global Chief Operating Officer at Boomerang, a marketing digital agency for the pharma industry. He was previously Managing Director and member of the Board of Directors of Pactera Switzerland AG, a subsidiary of Pactera Technology International Ltd.
From 2007 to 2013, he was an entrepreneur, co-founder/owner, Managing Partner and Board member of Innoveo Solutions, an independent software company privately held by its founding members. From 2000 to 2014, he has also been acting as an independent member of the Board of Directors of Boomerang.
Prior to Innoveo and since 2006, Didier was the CEO of ecenter solutions, a software and technology subsidiary spin off from the Helvetia Group. Between 2000 and 2005, he contributed to the development and implementation of the e-business strategy of the Helvetia Group. As one of the initiators of the formation of the corporate-wide eBusiness Center, he was nominated Deputy Manager in 2001, before becoming its Director and Manager in 2002. Before 2000, he was in charge of various IT architecture, projects, and management functions within Helvetia Switzerland.
He has a Masters of Science in Computer Engineering (1995) from the ENSISA and a Masters in Business Administration from EM Lyon (2001). He speaks French, German and English.
Didier is married, has one son (13 years old), plays water-polo and is an avid blogger (didierbeck.com) since 2004 (10 million visits) and an enthusiast amateur photographer (visuals.didierbeck.com, 5 million views).
Email me at: didier DOT beck AT free DOT fr